Writing Life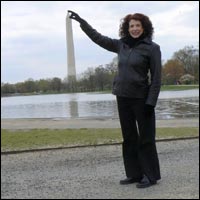 ROSIE
	Look you audience people - this is not my fault. Okay? 
	Okay! I'm not supposed to be up here! I signed up to make 
	the damned holly wreath cookies, okay? That's all I was 
	supposed to do. Make the damned holly wreath cookies! I 
	wasn't supposed to be in the play! Did I go to any of the 
	play practices? Yes, to pick up my daughter! My daughter 
	Caitlin was supposed to be the angel. I'm supposed to be 
	out there in the lobby setting up for the party! But like 
	all Women Who Do Too Much, taking on too many 
	responsibilities and … I'm a nurse. Of course I'm a nurse. 
	I work in dialysis down at Mercy. So. At 4:30 this 
	afternoon my daughter presents with the flu and I 
	volunteer to take her role which I know from practicing 
	with her! Mom to the rescue. Give, give, give, give, give. 
	This is my life. Do you think I don't feel like an idiot 
	standing here in an angel costume?
	
She unceremoniously climbs up the ladder and plunks a star on 
the Christmas tree top.

	And just so you all know, there is no one out in that 
	lobby getting ready for the opening night party, so I 
	don't know where that leaves us.
from Suffer The Long Night
Co-written with Greg Glienna
Biography
WGAE, Dramatist Guild
Resident Playwright, Chicago Dramatists
Mary Ruth Clarke writes for the stage, screen, and little screen.
She co-wrote and starred in the original low-budget Meet the Parents and adapted it into the blockbuster Meet the Parents, starring Robert De Niro, for which she shares Story credit with Greg Glienna. The original Meet the Parents was chosen by critic Dave Kerr as his favorite home-grown Chicago movie and was featured at the Gene Siskel Film Center's grand opening. She also shares Characters Creation credit with Greg for Meet The Fockers and Little Fockers.
She has written many plays, and some have found their way to productions.
Recent productions include Bonhoeffer's Cost at Provision Theater in Chicago, and Suffer The Long Night, a play she co-wrote with her MTP partner, Greg Glienna, which enjoyed a long successful run at Meta Theater in LA.
Mary Ruth is also a Resident Playwright at Chicago Dramatists, where she teaches screenwriting. She's a dramaturge with the Prop Thtr New Plays festival.
She has doctored many screenplays, three of which have gone on to be produced: Relative Strangers, A Guy Thing, and The Godfather of Greenbay.
Mary Ruth has had poems published in the anthology The Thing About Second Chances, An Ode to Ralph Mills, and InPrint.
She has an MFA from Emerson College, a BFA in Theater and a BFA in Art History from Ohio University. She is a member of Writers Guild East, the Dramatist Guild.
Plays
(Click on titles for full scripts/excerpts in pdf format)
Note: My plays are copyrighted and registered with the Writer's Guild. If you would like to produce the plays you need to clear performance rights with me. mrcmyword@gmail.com
Cast of Six (Five male, one female)
Dietrich Bonhoeffer is being held without charges in Berlin's Tegel prison. As World War II rages around him, he deliberates the cost attached to acting from one's convictions. In a blind race between the forces of good and evil, will Dietrich make it out alive?
Produced at Provision Theater, Chicago
Two staged readings for the Prop Thtr New Plays Festival, Chicago
Cast of Eleven (Six males, five females)
From the writers of Meet The Parents, a world premiere traumedy. It's opening night for the Merrillville Merry Art Player's production of that classic suspense thriller Suffer The Long Night. Alas, due to that nasty Avian flu epidemic, there's been a few last minute cast and crew changes. The actors valiantly play their parts, desperate to keep the play going, as everything that can go wrong does. It's a real actor's nightmare. Must the show go on?
For anyone who has ever dared to step on stage; for everyone who loves to watch!
Production in Fall of 2008, Los Angeles. Round table reading with Mad Scene Theater, Los Angeles
Cast of Five females
A high-speed comedy tracing the paradigm shifts in the second half of the 20th century caused by the women's movement and emerging technology. Bing!
Produced by Live Bait Theater, 1996, Chicago
Staged Reading, Victory Gardens Theater, 1995
Staged Reading, Chicago Dramatist, Spring, 2009
The Backache
Solo Version, Multiple Character Version
Cast of Five (Three females, two males)
Mary Lou has a pain. She naively assumes that she will see a doctor and it will be cured. But she falls down the rabbit hole in this Alice in Wonderland expedition through the precarious worlds of Western and Alternative medicine. What's a gal to believe? A coming of middle-age story with songs.
Two staged readings for the Prop Thtr New Plays Festival, Chicago
Cast of Two females
Shelly comes fully loaded to the first session with her new shrink, lugging 20 years of therapy under her belt and a tote bag full of religious brochures. Will she find a God who can live up to her well-cultivated self esteem? A cautionary comedy about those who drink the psychotherapeutic Kool Aid and those who offer it.
Produced by Strawdog Theater's All About Religion Festival
It was the only play ever to be performed on National Public Radio's Stories on Stage, in an evening entitled "The 50 Minute Hour"
4 One-Acts
Cast of Three (Two females, one male)
Exorcising my demons has proven not to be what I anticipated. The more horrifically I have experienced these affronts to my person (real or imagined), the more heinously I plot a retribution… nothing produces such odd results as trying to get even.
Mrs. Lee: Staged Reading and subsequent production at Chicago Dramatists. Jane, Stella: 10 Minute Workshops at Chicago Dramatist
Cast of three (Two females, one male)
A series of monologues by three characters whose lonely lives unexpectedly intertwine. An ancient hold out, Lucy Sabatino haunts the streets of a gentrified neighborhood trying to find someone to cut her grass. Peg O'Brien wearies of her role as Sister Mary Teaser in the hit comedy Nothing Sacred. Psychologist Stuart frets about stuttering through his keynote speech for a prestigious medical group: "The Slow Progress of the Mildly Melancholic." Peg and Stuart discover that the other is helping Lucy. But as these lives intertwine, the line between who is helping whom blurs.
Screenplays: Synopses & Excerpts
(Click on titles for full excerpts in pdf format)
Note: These screenplays are not produced, but are copyrighted and registered with the Writer's Guild.
When an adventurous traveling nurse decides to settle down, she discovers - unbeknownst to either - that her new fiancée and her new best friend used to be blissfully married, and now she must determine how to heal this situation. Who should be nesting with whom? A romantic comedy filled with pain and passion.
Sensitive, shy librarian Kate O'Brien has an ear problem: she hears way too much. Seeking nothing but quiet solitude, she's suddenly plunged into boisterous wedding preparations for her sister whilst being pursued by a mysterious and thunderous junior professor. Meanwhile her brownstone groans from some inexplicable ailment, and somebody in the Special Collections Room has a pair of scissors. A romantic comedy in search of quietude.